Thermal test of iPad's A5X chip shows operating temperature of 97 degrees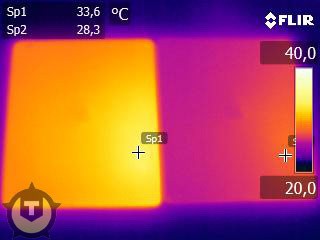 Yesterday we reported that the new iPad is running warmer that its predecessor. Repair Labs has conducted their own analysis and found that the A5X chip in the new device runs as much as 16 degrees Fahrenheit (about 9.5 degrees Celsius) warmer than the A5 chip in the iPad 2.
According to a series of tests conducted by Repair Labs, the A5X chip registered temperatures up to 36 degrees celsius (96.8 degrees Fahrenheit), compared to A5 readings of 27 degrees C (80.6 degrees F). The experiment involved opening up the tablets in order to directly measure the temperatures of the chips.
Repair Labs suggested that a difference in materials between the A5 and the A5X may be a contributing factor to the heating issue. The A5 is believed to be ceramic, while the A5X is "obviously metallic."
An external test involved having the two iPads to play movies on Netflix. The third-generation iPad started at 27 degrees C (80.6 degrees F) and warmed up to 32-33 degrees C (89.6-91.4 degrees F), while the iPad 2 started at 24 degrees C (75.2 degrees F) and only climbed to 25-26 degrees C (77-78.8 degrees F).
Repair Labs concluded the new iPad 3 "could be noticeably warmer after only a few minutes use," especially if held where the A5X is located.

Leave a comment