Untethered Jailbreak for iOS 6.1.3 - 6.1.5 Released (Mac/Windows)

As you probably know, a few days ago iH8sn0w, winocm and SquiffyPwn have released an untethered jailbreak for smartphones and tablets running iOS 6.1.3 - 6.1.5 - p0sixspwn. At first it was available only for Mac users, however, things have changed. Yes, you've got that right, p0sixspwn (version 1.0.4) for Windows is finally out.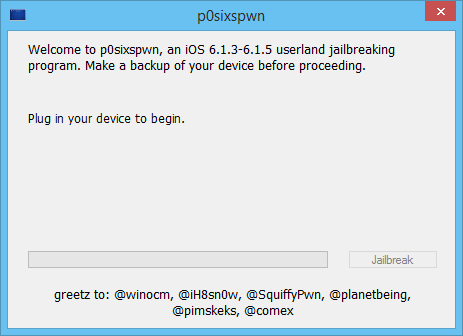 At the same time, the new version of the jailbreak utility for Mac - 1.0.3 - is coming soon. If you have any problems with 1.0.2, it is recommended that you update to 1.0.3 since it is more stable.
Don't forget to make a backup before jailbreaking your device and remember you hack your smartphone or tablet at your own risk.
One can download p0sixspwn for both Mac (version 1.0.2) and Windows (version 1.0.4) here.

Leave a comment, read comments [3]