Untethered Jailbreak for iOS 6.1.3 Found

A hacker named winocm claims he has a binary that can perform an untethered jailbreak of the iOS 6.1.3. This announcement has been spotted on Twitter today.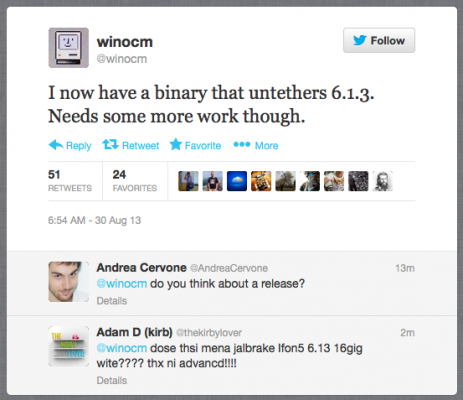 I now have a binary that untethers 6.1.3. Needs some more work though.
A tethered jailbreak is now available for the iPhone 4, iPhone 3GS and iPod touch 4G running iOS 6.1.3. winocm says, he has tested the code only on his own iPhone 4. What is interesting, though, is that the hacker doesn't work on the jailbreak for iOS 7.
I have my own code running inside the iOS 6.1.3 kernel on iPhone 4. It's not useful on iOS 7. I don't care about iOS 7. Other people are taking care of iOS 7.
If you have an iPhone and look forward to news from winocm concerning the new jailbreak, you may follow this person on Twitter.

Leave a comment