Upcoming OS X Mountain Lion version may solve laptop battery life woes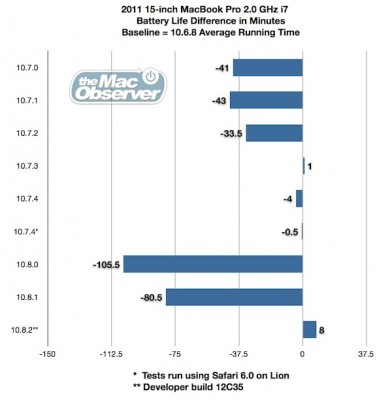 The unscientific test carried out by The Mac Observer claims to show significant boost in MacBook battery life using a new developer build 12C35 of OS X Mountain Lion, with the latest beta showing an 85-minute increase from the current 10.8.1.
Using OS X 10.6.8 Snow Leopard as a baseline, the compiled test data showed a significant hit to battery performance with the introductions of 10.7 Lion and 10.8 Mountain Lion. Upon release, Lion lost over 40 minutes of battery life and took three revisions to regain Snow Leopard power efficiency. In contrast, Mountain Lion saw a huge 105 minute loss in battery performance when it was released in July, with the latest 10.8.1 version moving the OS only 30 minutes closer to baseline.
With OS X 10.8.2, however, battery life is not just brought back in line with Snow Leopard levels, but the OS actually outperforms its predecessor by eight minutes. This marks an 88.5 minute savings in power consumption from the most recent 10.8.1 version of Mountain Lion.
We should mention that the final public version of OS X 10.8.2 may not boast power savings identical to the carried out test and the developer builds are promising. Anyway, The Mac Observer's findings demonstrate that Apple is taking an aggressive stance in solving the battery degradation issues caused by Mountain Lion.

Leave a comment