Verizon will offer unlimited data plan for iPhone 4 buyers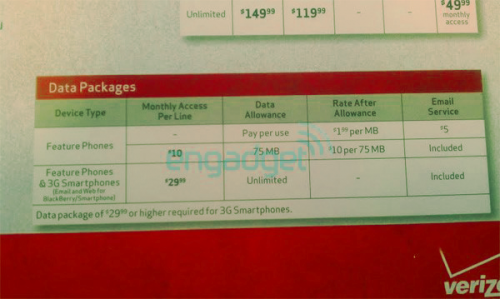 This week Engadget unveiled a leaked photo of new Verizon pricing, which shows that the carrier will soon cancel its 150MB data plan, and those who will buy new 3G smartphones will be required to pay $29.99 for every month of unlimited data allowance.
New changes will take place after Verizon will launch CDMA-version of the iPhone 4 on Feb. 10.

In turn AT&T doesn't offer unlimited plans at the moment, and you may pay $15 for 200M of data every month or $25 for 2GB of data (high-end data plan).
The leaked photo reveals Verizon will also offer 75MB of data for 10$ per month, but this data plan will be available only for those who previously bought the so-called 'feature phones' that are less powerful than smartphones running the Google's Android or Apple's iOS operating systems.
Earlier, when Verizon announced that it will offer iPhone 4, no information was revealed on the company's data plans, but later rumor had it Verizon may offer unlimited data plan.

Leave a comment