Will Barak Obama veto iPhone and iPad import ban?

Last June ITC issued an order to ban Apple from importing its older products. The ITC discovered that Apple infringed on a Samsung patent related to cellular technology in AT&T models of the 3GS and 4 as well as with the iPad 1 and 2 3G models.
The ban will go in effect on August 5th. Although there is still hope that President Obama vetoes the ban. Considering that he did not do that over the last decade, the ban is unlikely to be cancelled.
It was the Verizon Lawyer Randal Milch who asked President Obama to veto the ITC ban.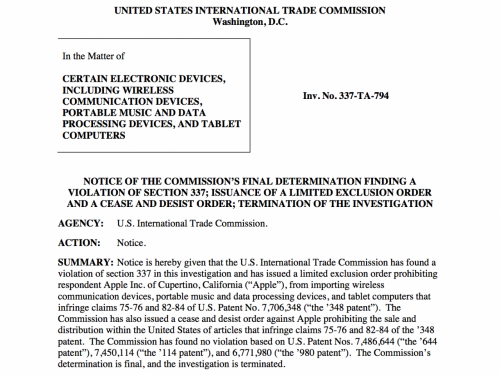 What we have warned is that patent litigation at the ITC—where the only remedy is to keep products from the American public—is too high-stakes a game for patent disputes. The fact that the ITC's intellectual-property-dispute docket has nearly quadrupled over 15 years only raises the stakes further. Smartphone patent litigation accounts for a substantial share of that increase.
Here are three instances under which the president should veto an exclusion order:
• When the patent holder isn't practicing the technology itself. Courts have routinely found shutdown relief inappropriate for non-practicing entities. Patent trolls shouldn't be permitted to exclude products from our shores.
• When the patent holder has already agreed to license the patent on reasonable terms as part of standards setting. If the patent holder has previously agreed that a reasonable licensing fee is all it needs to be made whole, it shouldn't get shutdown relief at the ITC.
• When the infringing piece of the product isn't that important to the overall product, and doesn't drive consumer demand for the product at issue. There are more than 250,000 patents relevant to today's smartphones. It makes no sense that exclusion could occur for infringement of the most minor patent.
The ITC has greatly improved its efficiency over the years. It reviewed 70 cases in 2011, while in 1998 the figure reached only 11.

Leave a comment