Will T-Mobile Get iPhone 3GS, not 4, later this year?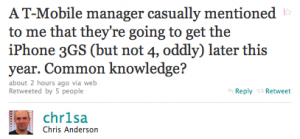 Let's look at the following statement of the editor of Wired, Chris Anderson:
"T-Mobile's manager told him that the iPhone 3GS (not a 4 model) is going to arrive a bit later this year".
Frankly speaking, many users are disappointed because they are looking forward to getting the iPhone 4.

Leave a comment