Women more prefer iPhone than men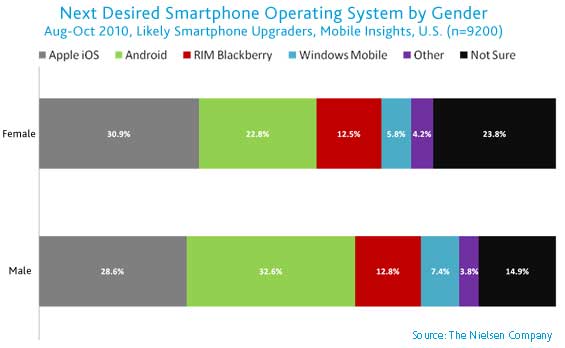 Today Nielsen released another research that aimed to study mobile phone users and their plans on the next possible smartphone to buy. Here are some interesting facts that were revealed:

32.6% of men want to have an Android-based smartphone and 28.6% are looking into iPhone.
Women prefer iPhone - at least, 30.9% of them; another 22.8% would like to buy the smartphone with Google Android.
iPhone is the most popular device for all ages except 35 to 54 - 27.4% of people of this age prefer to choose Android, and 26.3% want to have iPhone.
Among those who already have a smartphone, 35% would to like to buy an iPhone and 28% want to have one of the Android-based devices.
The owners of usual mobile phones are less decisive, with 25% of them unsure of their choice.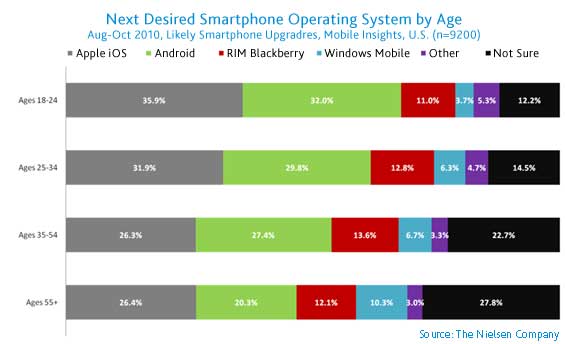 Nielsen found that in the US the iPhone's market share is 27.9%, while RIM's BlackBerry holds 27.4%. According to the StatCounter report, which was revealed on the iPhoneRoot earlier today, RIM has already overtaken Apple in terms of web usage.
Previous Nielsen's survey was published in October, when the company revealed the fact that sales of Android-based devices exceeded the sales of iPhone. However, that still doesn't significantly change the situation on the smartphones market.

Leave a comment