Apple accidentally reveals iCloud.com banner notifications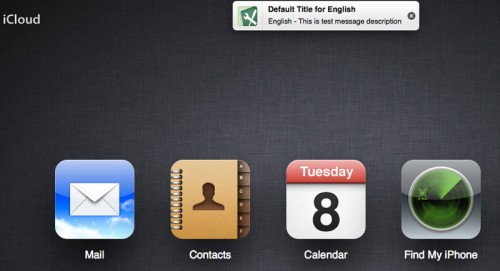 Users who visited the iCloud.com website on Tuesday could find a test of a new banner notification feature that was mistakenly made public, revealing a forthcoming feature for the service. An iOS-style notification was at the top of a browser and looked like:
"Default Title for English," the title read, followed by "English - This is test message description."

To the right of the notification was an 'X,' allowing users to close the message from their browser. The test message could not be selected and it did not link anywhere.
The early reveal shows that Apple is planning to bring banner alerts to iCloud.com, a feature that first debuted last year on the iPhone and iPad with the release of iOS 5. The banner alerts replaced the previous, more intrusive alert notifications that must be responded to in order to return the device to normal use.
Tuesday's reveal at iCloud.com did not give any indication that a unified Notification Center will be coming to the website. But it did indicate that Apple is actively working on bringing banner-style notification alerts to the free cloud-based service.

Leave a comment