Facebook Unveils App Center For All Devices And Platforms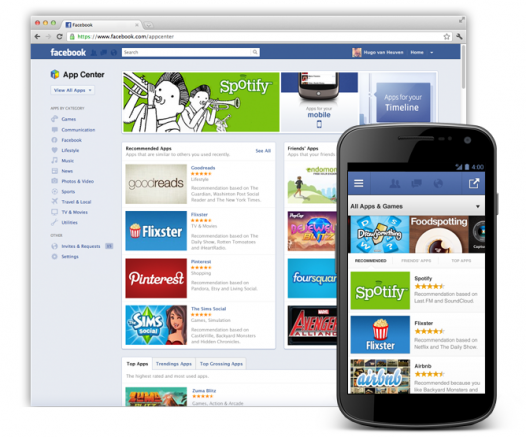 Facebook announced the launch of a new App Center that will offer Facebook users Android, iOS, desktop, web and mobile web apps. Facebook said that it is not directly competing with Google and Apple as the App Center will forward users to both the Android and iOS platforms. So, for example, if you are visiting the App Center from an iPhone, and enter Words with Friends, or other Facebook-compatible games, you will be sent to the corresponding app's page on the App Store for installation.
According to VentureBeat, Facebook's App Center apps are going to be "personalized". The social network will even feature a star rating system based on user feedback, and the company will gather data on how long user stay in an app and how often they come back to the app. The combined scores will serve as an indicator of an app's quality, which developers can use to tweak and improve their products.
Facebook will offer not just free apps, but also paid apps, however the company expects that in-app purchases to be the primary way for developers to make money for the time being.
It should be mentioned that Facebook already has an app directory that was released in 2009, but it pales in comparison to the new App Center.

Leave a comment