Apple forbids newspapers to allow free iPad access for print subscribers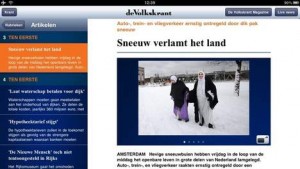 This Friday Dutch website called deVolkskrant published a report, where it was revealed that Apple will soon bring in new rules for publishers. According to it they won't be able to offer free access via iPad for their paid print subscribers anymore. The changes will be made because in this way publishers currently avoid to pay Apple a 30% cut for an access through its device.
Another Dutch site nrc.nl also revealed the date when all the new restrictions will take effect - it will be after April 1.

Content providers characterize this Apple's move as "too dominant", and they are upset because of it.
It is interesting, that only non-US publishers reported about the changes yet, while American newspapers keep silence on that.
It is believed that Apple is currently working on another update for iOS, which will allow recurring subscriptions for apps on the App Store. That also seems to be a reason for the delay of a new iPad-only newspaper The Daily. As you know, these days Apple has released first beta of iOS 4.3, but no new subscription options were found there yet.
It is rumored that iOS 4.3 will be released publicly in March. The Daily and new subscription option are expected to be showed off at a forthcoming event in San Francisco.

Leave a comment