Apple is PC and tablet market leader...again

A research firm Canalys has published a report which states that in Q4 2013 Apple remains the market leader of the combined PC and tablet market in shipments. Apple occupies 19.5% of the market by shipping 30.9 million Mac and iPad units. Lenovo is the market follower with 11.8% share. It has increased the result by 25.5% and jumped over HP to become second best.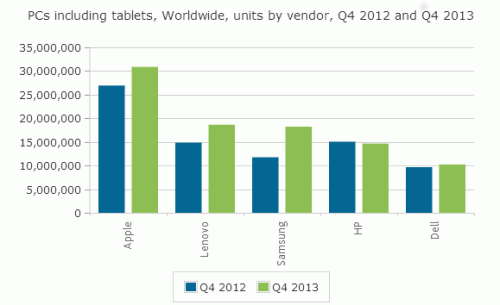 According to Canalys' findings, Apple's leading positions relies on iPads. The tablets refer to 84.3% of total shipments, or 26 million units. The share on the global tablet market increased by 6.7%  and reached 34.1% in Q4 2013. The main asset was the successful launch of both iPad Air and the Retina iPad mini.
Apple remained the PC market leader in Q4, shipping 30.9 million units to take a 19.5% share of the market. It shipped 26.0 million iPads, which accounted for 84.3% of its total shipments in Q4. Apple's share of the overall tablet market increased sequentially from 27.3% to 34.1%, with the launch of the iPad Air and iPad mini with Retina display providing a much needed boost. The original iPad mini also fell in price, down to US$299 in the US, making it cheaper than ever to buy an iPad. But competition is mounting and Android tablets are falling in price, which will put pressure on Apple's market share in 2014.
The overall tablet and PC market has increased 17.9%  due to growing consumers' demand. The tablet market is the most promising one with 65.2% of yearly growth. The PC market is in decline and dropped by 6.9% over the year. Nowadays, tablets occupy 48.3% of the total PC market.

Leave a comment