Evad3rs released Evasi0n 1.0.5 to jailbreak iOS 7.0.5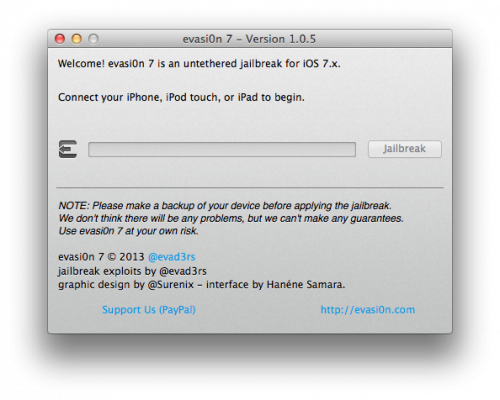 The evad3rs have released an updated evasi0n 7.0.5 that brings the ability to jailbreak iOS 7.0.5. The iOS 7.0.5 was released earlier this week for the some iPhone 5s and iPhone 5c models (the GSM + CDMA editions).
Pod2g noted the change on twitter
Hi there! evasi0n 1.0.5 with support for iOS 7.0.5 is up on http://evasi0n.com .
Apple has already patched the exploits evasi0n7 uses in the latest iOS 7.1 beta, as we reported yesterday, so this will be the last firmware you will be jailbreak iOS 7 for some time.
You can download the latest Evasi0n 7.0.5 here.

Leave a comment, read comments [4]