Apple Patent Describes Electronic Window That Hides Biometric Sensors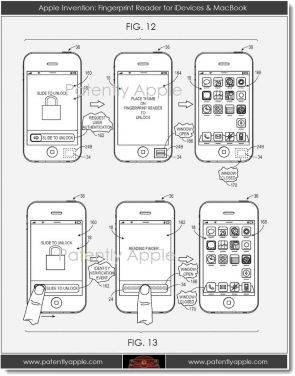 With Apple's purchase of a fingertip sensor firm AuthenTec for $365 million, there has been much speculation on how Apple might utilize the technology in its future devices. Today Patently Apple reported on a new Apple's patent introducing an all-new unlock screen feature based on fingerprint technology.
The patent details a transparent or hidden color-matched electronic "window" (located next to the home button of the iPhone in this case) that could change its opacity to reveal the hidden components. In other worlds, the company could integrate a camera or biometric sensor into a device and keep it hidden to the user when the feature is not in use. On the picture above Apple shows how the invention can be used for unlocking the device.
The patent also details similar methods using eye recognition and face recognition rather than fingerprint sensors. Apple states that invention would not be limited to unlocking its devices and illustrates the feature in an e-commerce context. Patently Apple noted:
"To complete a shopping transaction online, many e-commerce websites may require identity verification before the order can be completed. When such a transaction occurs using an iPhone, for example, the iPhone's camera will provide an authentication screen 180 explaining that user authentication is required to complete the transaction".

Leave a comment