Apple to Announce Fiscal Q4 Financial Results on October 20th

According to the recently-updated Investor relations page, Apple will officially announce its financial results in the fourth fiscal quarter (which is the third calendar quarter) of 2014 on October 20th. This means that soon we'll find out how many iPhone 6 and iPhone 6 Plus units the guys from Cupertino have sold over the last weeks and how much money they have earned. As usual, you will get an opportunity to take a look at the financial report immediately after the conference call end.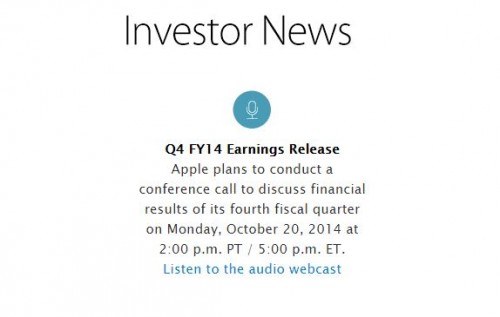 This quarterly earnings report covers the period up to September 27 and will include early sales of the iPhone 6 and 6 Plus, which launched in a number of countries on September 19. With a highly anticipated China launch slated for October 17, iPhone sales in the current quarter are expected to continue to be strong.
According to what Apple writes, the quarterly financial results will be released around 1:30 PM Pacific/4:30 PM Eastern on October 20th. Let's wait.
[via MacRumors]

Leave a comment