Apple Watch Sales Fall by 90% [Chart]

According to the latest report from a research firm called Marketwatch, the sales of the long-awaited Apple Watch have fallen by 90% since the first week of availability back in April. On average, Apple has been selling about 20.000 smartwatch units a day. In the first days after the release, the number of wearable devices sold was equal to about 200.000 units per day. As you see, the difference is huge.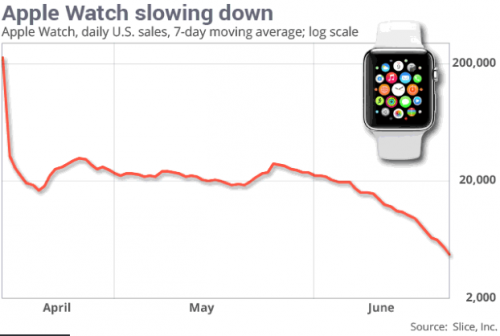 The sales of the high-end luxurious gold Apple Watch have also been quite low. As noted by the analysts, the guys from Cupertino managed to sell only about 2.000 units. The most popular model is the Apple Watch Sport.
Sales of the Apple Watch have reportedly dropped by 90% since opening week, according to analysis provided to Marketwatch.

[...]

About two thirds of watches sold thus far have been the lower-priced Sport model. So far, fewer than 2000 gold Apple Watch Edition units have been sold in the United States, says Slice.
Apple is expected to announce its financial results in the third fiscal quarter of this year on July 21st. We'll soon find out how many Apple Watch units the guys from Cupertino have sold since April.
[via iClarified]

Leave a comment