Apple's Q1 2011 Conference Call: Notes Of Interest


Yesterday Apple reported its best quarter in the company's history. That what numbers tell and Apple's CEO Steve Jobs said at the beginning of a conference call:
"We had a phenomenal holiday quarter with record Mac, iPhone and iPad sales. We are firing on all cylinders and we've got some exciting things in the pipeline for this year including iPhone 4 on Verizon which customers can't wait to get their hands on."

The company revealed many details about its current financial condition, so we created a list of the most interesting facts. Here is it:
General financial information on the Q1 2011:
$26.74 billion in revenue (in comparison to $15.68 million in the year-ago quarter);
$6 billion net quarterly profit (in comparison to $3.38 billion in the year-ago quarter);
Record 16.24 million iPhones (86% unit increase over the year-ago quarter),  19.45 million iPods (7% unit decline), 7.33 million iPads (wasn't available a year ago) and 4.13 million Macs (23% unit increase) had been sold in the three-month span including the holiday buying season.
Apple's regional business
International sales made 62% of the company's revenue in the Q1 of fiscal 2011;
Apple's business in both Americas made $9.2 billion of Apple's revenue;
$13.74 billion came from Asia Pacific, Japan and Europe;
$3.8 billion came from retail;
Europe became the second-largest region after the U.S., as it made $7.3 billion in revenue.
Apple has chosen China as its top priority, and results are called as "absolutely staggering", as the revenue increased by 4 times in comparison to the year-ago quarter.
Korea and Japan are also doing well, revenue was up 83% in comparison to the year-ago quarter.
Macs
4.13 million Macs were sold in the first quarter of 2011;
2.9 million of Macs were portables, which made $3.7 billion revenue for the company;
Apple sold 1.2 million desktop Macs and earned another $1.7 billion on that;
Tim Cook thinks there is also a halo effect, which causes some people who've heard about iPad to buy Macs. He is also glad MacBook Airs became so popular in less than 90 days after its start.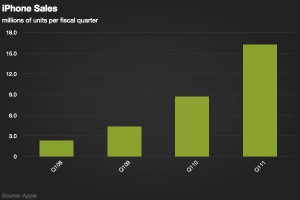 iPhones
Apple sold 16.24 million iPhones during the Q1 of 2011, which made $10.5 billion of revenue for the company;
In the December quarter iPhone sales increased by 86%;
88 of 100 companies listed in the Fortune already deploy iPhone;
The device's average selling price was $625;
The demand for Verizon iPhone 4 is bigger than Apple can now offer, said Tim Cook, but the company works "around the clock to build more";
Tim Cook also said average selling price for iPhone will not be decreased because of the CDMA iPhone launch;
By signing a non-exclusive multi-year deal with AT&T in the U.S. Apple has no more countries where iPhone is available only with one carrier;
Apple has already sold 160 million iOS devices.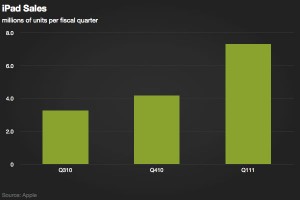 iPads
Apple sold 7.3 million iPads during the Q1 of 2011, which made $4.6 billion of revenue for the company;
Demand for an iPad is strong for education, enterprise and ordinary customers;
More than 80 companies from the Fortune 100 list are piloting or deploying iPad already;
The device's average selling price was $600;
By the end of the quarter iPad was available in 46 countries;
In the next few weeks it will appear in 15 more countries;
Supply increased by about 525,000 units by the end of the quarter.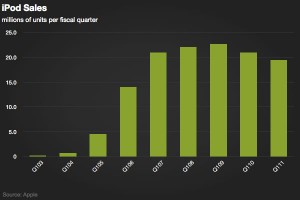 iPods
Apple sold 19.4 million iPods during the Q1 of 2011, which made $3.4 billion of revenue for the company;
The iTunes business gave Apple more than $1.1 billion in revenue;
iPod touch sales grew 27% year over year;
More than 50% of iPods sold are iPods touch.
Retail business
Apple earned $3.5 billion due to retail business, which is 95% increase over the year-ago quarter;
Every second Mac was sold to a customer who never owned Mac before;
People buy Macs most of all in China;
Retailers sold 851,000 Macs in the Q1 of 2011, which is 24% more than in a year-ago quarter;
Approximately 321 stores were working in the December quarter, and 6 more were opened;
87 working stores are situated outside the U.S;
Average revenue per store is about $12 million.
Next fiscal quarter
Apple expects the next quarter revenue will be $22 billion, and EPS will be about $4.90;
Gross margins are expected to be ~38.5%;
Taxes will increase by 25.5%;
iPod and Mac sales will decrease after a holiday season. iPhone sales over year will increase "significantly";
Apple's representatives appeared to be unsure about further iPad sales as it is a new market.

Leave a comment