Delays In Components Forced Apple Into A Tight Product Release Schedule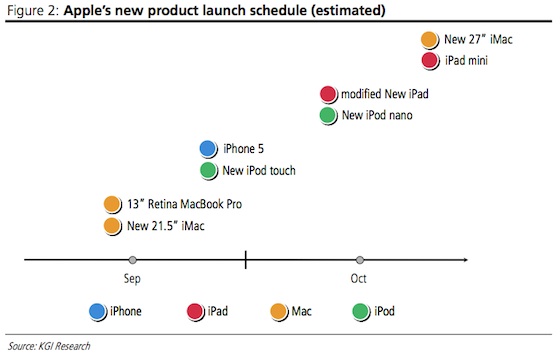 Analyst from KGI Securities Ming-Chi Kuo has published a new research sharing his expectations on Apple's product releases for the 2012. He notes that delays in some components have forced the company in a tight timeline which may impact product sales in the short term. These delays have affected several Apple's products, including the updated iMac and rumored iPad mini.
"Our survey shows that Apple will take the wraps off quite a few new products in September and October. From a marketing and sales point of view, too many new products in a short period of time is not a positive thing. An interval of at least two weeks between different products is needed; otherwise the promotional campaign will lack a clear focus and shopping line management will become overly complicated, not good for a satisfactory shopping experience".
According to Kuo, Apple is fully aware of the situation and the company is working to schedule its product introductions to ensure good public visibility for each of its new devices.
Kuo has stretched out his schedule from his last month's report that saw almost every product being released in September. Now Kuo believes that an updated 21.5-inch iMac and 13-inch Retina MacBook Pro could appear first, followed by the next iPod touch and iPhone in mid-September. A tweaked iPad and improved iPod nano would launch in October, with the 27-inch iMac and iPad being released later in October.

Leave a comment