Google And Apple's CEOs Working To Address Patent Disputes Between Companies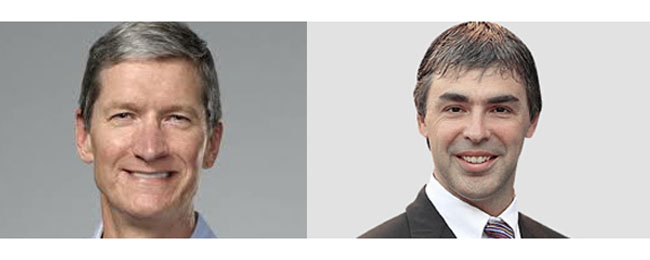 According to today's report from Reuters, Google CEO Larry Page and Apple CEO Tim Cook have been actively discussing some patent issues related to the two companies. The report said:
"Google Inc CEO Larry Page and Apple CEO Tim Cook have been conducting behind-the-scenes conversations about a range of intellectual property matters, including the ongoing mobile patent disputes between the companies, according to people familiar with the matter.
The two chief executives had a phone conversation last week, the sources said. Discussions involving lower-level officials of the two companies are also ongoing".
Reportedly Apple and Google's executives have discussed some kind of settlement addressing several more minor issues included in the disputes between the companies. However it is unclear whether a broader settlement to address larger issues is also under discussion.
With Google's purchase of Motorola Mobility that has been embroiled in patent dispute with Apple for some time, Google and Apple are currently also fiercely competing in the courts over those issues. After Apple has recently got 1 billion win over Samsung in a patent trial, Google will likely try to find a compromise, rather than fight with Apple.

Leave a comment