FaceTime on Apple's new iPad not allowed over LTE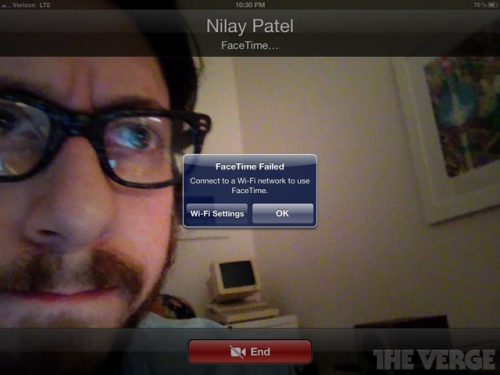 Having performed some testing, The Verge discovered that the recently-released iPad will need a Wi-Fi connection to use FaceTime, the device will not be allowed to make FaceTime calls on LTE network.
The iPad show that LTE service on the device is significantly faster than previous-generation 3G networking. Some said that the average download speed is 17 megabits per second on Verizon LTE network, while on AT&T's network it reaches 12 mbps.
Though the news hardly comes as a surprise, since Apple's 3G-enabled iOS devices are unable to use FaceTime over 3G, it does put to rest questions about whether the added download speeds from LTE might open up the feature for 4G cellular networks.
Report author Dieter Bohn found the LTE FaceTime restriction because Verizon LTE iPads can generate Personal Hotspot Wi-Fi networks that would presumably allow other iOS devices to make FaceTime calls via the same LTE connection.
We've just confirmed that although the new iPad has incredibly fast download and upload speeds over LTE, FaceTime video chat still won't work directly on the 4G network. As you can see in the positively vexing screenshot above, attempting to initiate a FaceTime call over LTE fails out with a message exhorting you to connect to a Wi-Fi network.

Leave a comment