Google Is Going To Demonstrate 'Next Dimension' Of Maps On June 6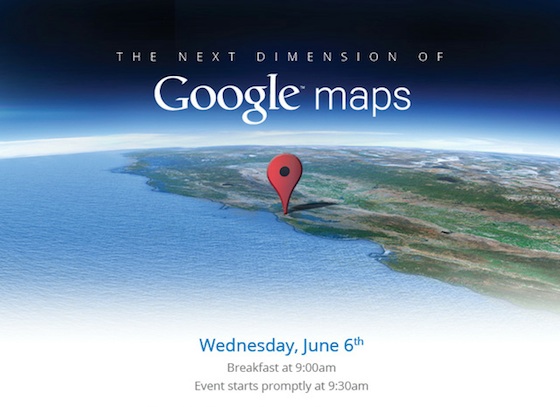 According to 9to5Google, on June 6 Google will hold an event to introduce the next dimension of its mapping service. The Google's event will take place just five days before the Worldwide Developers Conference where Apple is expected to show off new iOS 6 with its own mapping solution.
"At this invitation-only press gathering, Brian McClendon, VP of Google Maps and Google Earth, will give you a behind-the-scenes look at Google Maps and share our vision. We'll also demo some of the newest technology and provide a sneak peek at upcoming features that will help people get where they want to go – both physically and virtually. We hope to see you there".
Apple has relied on Google's mapping service in iOS since the launch of original iPhone in 2007. However as competition between these companies has ramped up, Apple has tried to develop its expertise in mapping with the purchase of several companies and has gradually moved certain mapping and location service in-house. The transition is said to culminate in the upcoming iOS 6 with the mapping services shifting from Google to Apple.
The timing of the Google's event may indicate that it has been specifically aimed at upstaging any Apple announcement related to mapping in iOS 6 and demonstrate what users will miss out on with this transition.

Leave a comment