'Lucky Bag' One-Day Sale in Japan - January 2nd

Apple will kick off its traditional 'Lucky Bag' one-day sale in Japan. This will happen on January 2nd. For those who don't know, 'Lucky Bag' is a bag with discounted Apple products inside. It is sealed, so the customers can't see what's inside - and this is the point of all that stuff. Also known as Fukubukuro, the Lucky Bag promotion is a kind of Japanese local New Year's Day custom.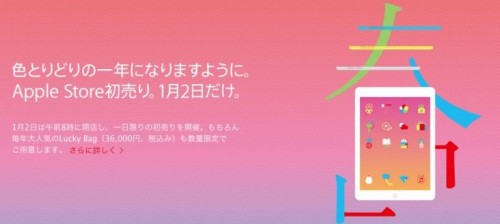 iDownloadBlog writes that:
According to Apple's Japan website, this year's Lucky Bags – priced at 36,000 yen, or about $345, will be available in limited quantities in several brick-and-mortar Apple Stores across the country, starting on January 2 at 8am local time and until 11:59pm the same day.
The 'Lucky Bag' sale is extremely popular among the customers in Japan.

Leave a comment