New 27-inch iMac Supports Up to 64GB of RAM - OWC

According to the latest report from Other World Computing (OWC), the recently-introduced 27-inch Retina 5K iMac supports up to 64GB of RAM. Unlike the smaller 21.5-inch Retina 4K iMac, which uses soldered RAM that can be upgraded only by Apple on customer's demand before the purchase, the larger model gives the owner an opportunity to upgrade the maximum RAM capacity offered by Apple by two times using modules of up to 16GB per one slot. This makes the 27-inch iMac a worth-purchasing device for all those who use computer for image and video editing and other things that require much RAM and powerful processor.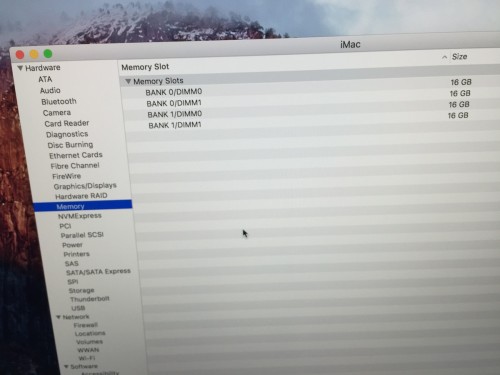 Here's what OWC writes about the latest 27-inch iMac and its memory configuration:
It is very important to note that only these newly introduced "Apple iMac with 27-inch Retina 5K display Late 2015" models with model ID 17,1 are able to support these higher memory configurations. Prior iMac 27" with Retina Display models support a maximum of 32GB.
Even though upgrading RAM on the new Retina 5K 27-inch iMac is quite an easy task, the price will let only a small number of users to perform this procedure. For example, the maximum 64GB of RAM will cost $1195.
[via OWC NewsFeed]

Leave a comment