Camera Inside iPhone 6s Receives Same DxOMark Score as iPhone 6

During the September media event devoted to the new iPhone 6s and iPhone 6s Plus, Apple focused the attention of media and potential buyers on the updated 12-megapixel rear and 5-megapixel front cameras added to the devices. While Apple indeed improved the functionality of built-in iPhone cameras, the quality of images taken with these sensors seems to be similar to the quality of images taken with the iPhone 6.
Below you may take a look at the chart showing which devices should be purchased by those who love taking photos with their phone.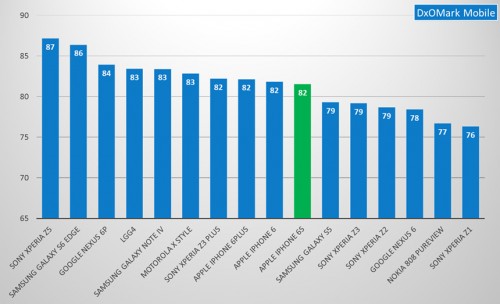 According to the latest review made by DxO specialists, the iPhone 6s camera is quite similar to the camera found in the iPhone 6 in terms of image quality. The DxOMark score, which is an industry standard, remained the same. Both iPhone 6s and iPhone 6 got 82 points and that's a bit disappointing result for such an expensive device.
The iPhone 6s camera has been reviewed by DxO and although it performs well, Apple hasn't managed to increase the camera's DxOMark score.

[...]

The iPhone 6s camera achieves a score of 82. The same given to the iPhone 6 and iPhone 6 Plus. It's outperformed by mobile device cameras from Sony, Samsung, LG, and Motorola.
It should be noted that despite a relatively poor iPhone 6s result, it's camera is still one of the best on market. The thing is, it's not the best.
[via iClarified]

Leave a comment