New Apple ViP Program Will Help Developers To Control Their Business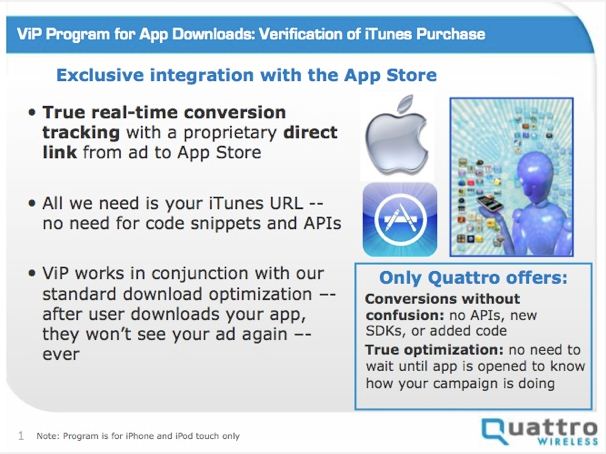 According to TechCrunch, Wireless Quattro had recently contacted iPhone app developers to introduce their new "Verification of iTunes Purchase" program. The company is an Apple subsidiary,and it currently develops forthcoming iAd program.
ViP helps developers to promote their apps in App Store via ads which appearing in iPhone apps. With this feature they can track download conversion rates in real-time. Such information is proprietary to Apple, so Quattro promotes the product and its "exclusive integration with the App Store", because such a feature is unavailable to other ad networks, and such information mentioned in the e-mail:
"Verification of iTunes Purchase uses no SDK or server-side integration — this cannot be duplicated by any of our competitors".
Other advertisement companies such as Google's AdMob can only estimate conversion rates, but such data cannot be as precise and detailed as Quattro's one. For enabling conversion tracking every developer that uses AdMob must integrate the company's advertising API into his code.
New provisions of iPhone SDK also reveal that now iPhone app developer is prohibited from sending users' private data (and even location) to third parties. That means that mobile ad networks will have no ability to target users with its location-based or customized in any other way ads.
So this Quattro's ViP program in addition to Apple's deep integration between iPhone OS, App Store and its ad network reveals that company is aimed to have the maximum control over access of competitors, who desire to benefit from Apple's business.

Leave a comment