New Apple's Patent for Flexible Headphones Connectors

According to the latest news, Apple has filed a patent for a flexible headphones connector, that can prevent the headset from accidental breakage. The patent application, published by the U.S. Patent and Trademark Office today proves that the company from Cupertino is working on an innovative type of iPhone headphones.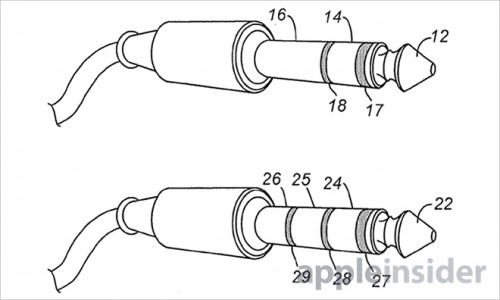 As to the Apple's "Flexible TRS connector" patent itself, it describes a number of designs that can possibly allow to use flexible materials for headphones and other types of connectors production.
The present invention relates generally to connectors such as audio connectors and in particular to flexible audio connectors that can be used in place of standard audio connectors currently used. A portion or all of the plug connector may comprise a flexible material that allows the connector to bend with respect to an insertion axis and prevent the connector from breaking when inserted or extracted improperly. A method of assembly is provided and may be used for assembling embodiments of the plug connector. The connector is configured to mate with a corresponding receptacle connector along an insertion axis.
This invention can become very useful not only for Apple and its iPhone, iPod and iPad, but also for those companies that produce music equipment.

Leave a comment