New Michael Jackson Song Was Exclusively Released On Ping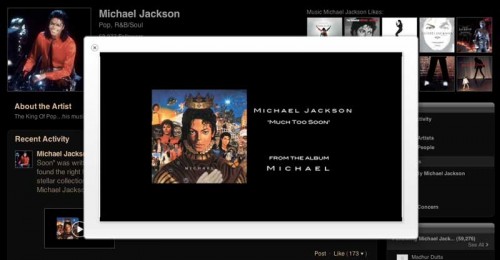 To promote its new musical social networking service Ping Apple landed an exclusive track from Michael Jackson called "Much Too Soon".
The song is included in the pop star's forthcoming album "Michael" and can be streamed within iTunes if you access Ping and navigate to the official account of Michael Jackson. This is a new way Apple successfully promotes its social network, as over a million users had listened to the song within first 48 hours after its release.

"Much Too Soon" was created when Michael Jackson was working on his best-selling album "Thriller", which was released in 1982.
The official account for Michael Jackson on Ping also reads:
"Michael always liked the song but never found the right home for it; here it finds its place as the bittersweet closing to the stellar collection. This song was written by Michael Jackson and produced by Michael Jackson and John McClain. David Campbell is featured on the strings."
The forthcoming album "Michael" will include 10 tracks and feature artists Lenny Kravits, Akon and 50 Cent. It'll be released on December, 14.
This is a second exclusive content deal Apple secured for the last month. In November the company started to sell through iTunes the entire catalog of The Beatles, which eventually led to 450,000 album sales of the band in the first week.

Leave a comment