New York Post Website Became Unavailable in Safari for iPad Users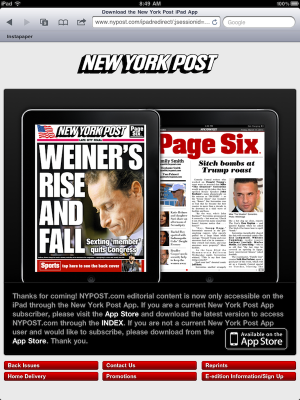 Yesterday paid Content reported that the New York Post website is no longer available to iPad users. Instead of showing its content NYpost.com loads a landing page that directs prospective iPad readers to the App Store for downloading the publication's app.
Earlier the site was only advertising and promoting the app and users were able to continue surfing it without installing any apps. Now it shows next message:
"Thanks for coming. NYPost.com editorial content is now only accessible on the iPad through the New York Post App".

One-month subscription costs $6.99, $39.99 is required for six months or you should pay $79.99 if you want to have a one-year subscription. Single-issue purchase option is not available.
It is interesting that the limitation works only in Safari browsers. iPad users may still be able to access content via other browsers like Opera Mini or Skyfire.
The decision to block the content of the New York Post site has already caused criticism. Blogger Dave Winer, for instance, said that "this is breaking the web".

Leave a comment