Next Generation iPhones Referenced in iOS 4.3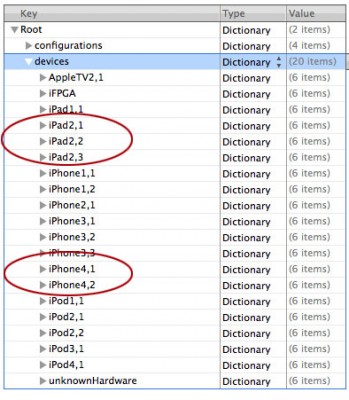 The latest iOS 4.3 build contains model references to not yet released iPhone and iPad models indicated in the code as:
iPad2,1
iPad2,2
iPad2,3
iPhone4,1
iPhone4,2
The first generation iPad carries a model number of "iPad1,1", the current iPhone 4 is 3,1 for AT&T and 3,2 for Verizon. These new designations likely represent the next generation iPad and iPhone. Perhaps, the second digit represents hardware differences between models - such as a Verizon iPhone and AT&T iPhone. We're thinking maybe China is getting a new iPhone.  Or maybe the magical white iPhone has something different to it or maybe that Sprint event on Feb 7th is for a WiMAX . The iPad is also believed to be coming to both Verizon and AT&T, so that may explain at least a few of the different model numbers.

Leave a comment