Nokia loses money because of Apple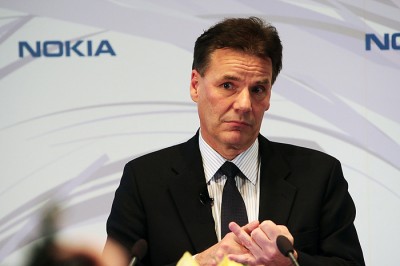 Finnish company Nokia admitted last week that the competition on the high-end smartphone market is high enough and it is finally affected on quarterly earnings. In the first quarter of 2010 Finnish cellphone maker earned 465$ million. In the same period of the 2009 they earned 162$ million. Well that can be explained by an economical situation in the world, but this year results were expected by analysts to be higher.
Nokia conceded the average selling price of their cellphone products dropped down from 66 to 62 euros. The numbers for smartphones are more significant - from 190 (first quarter of 2009) to 155 euros (first quarter of 2010).
Nokia CEO Olli-Pekka Kallasvuo is pretty obsessed about this fact:
"We continue to face tough competition with respect to the high end of our mobile device portfolio".
Nokia remains to be the market leader all over the world in selling cell phones and smartphones, but its market share started to reduce since Apple presented their iPhone in 2007. Many people say that became a reason for Nokia to sue Apple over 10 patented standards that are used in Apple's device. But Apple didn't stay still and responded with its own lawsuit. The company accused Nokia of infringing their 13 patents. The history still continues - both of the companies are waiting for the court to process their cases.
A week ago we already wrote about conference call made by Apple. Well from that report it is also known that iPhone sales in the last quarter were $8.75 million, which is a highest-ever number.

Leave a comment