Release of New iPhones Caused Noticeable Increase in App Downloads

According to the results of the latest research conducted by a marketing firm called Fiksu, the release of both iPhone 6 and iPhone 6 Plus caused a substantial increase in app downloads in October. As noted in the latest report prepared by company's analysts, the number of downloads managed to reach an enormous figure of 7.8 million per day among the top 200 free iOS apps. I must admit, it is a truly impressive result for Apple's virtual marketplace.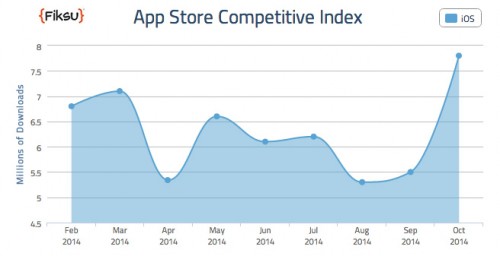 If to compare the number of app downloads in October with the identical parameter in September, we may see a 42% increase. Moreover, we may see a 39% increase in comparison with the same time period of the last year.
According to Fiksu's October App Store Competitive Index, app downloads reached a record-setting high of 7.8 million per day across the top 200 free iOS apps. This is a 42 percent jump from September and a 39 percent increase year-over-year, with the trend expected to continue into the holidays.
Apart from other things, the aforementioned results mean that more users have purchased Apple's new iPhones in the first weeks after the official release than in 2013. To be honest, I'm curious about seeing the number of app downloads in the holiday season.
[via MacRumors]

Leave a comment