Some iPhones may be delivered earlier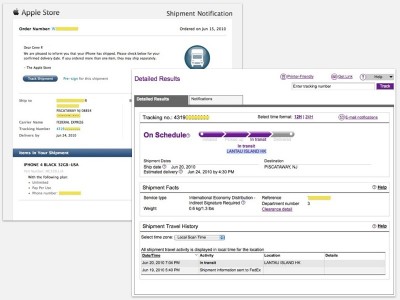 On Friday Apple started marking orders for iPhone 4 as "prepared for shipment", but some customers have already received new shipment notifications from the company.
Most of the reports indicate June 24 as a delivery date (as it is seen on the screenshot above), but numerous source reveal there are also some notifications that state a ship by date of June 23.
Apple can request shippers to deliver the items exactly on the launch date, but there were cases when people who ordered an iPad also received it the day or two before the official launch date.
It is also revealed that new iPhones are shipping from Lantau Island, Hong Kong.

Leave a comment