Toshiba makes MacBook Air SSDs available for mass market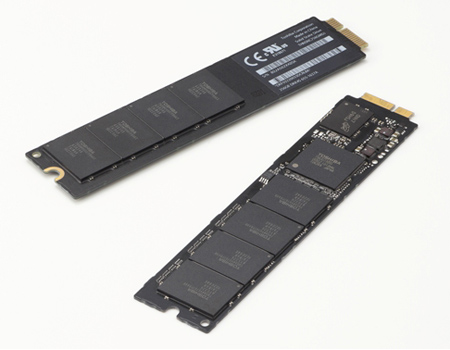 Today Toshiba started selling Blade X-gale Solid state drives for mass market, the same that are used in the new MacBook Airs. That was confirmed by MacRumors, which compared Toshiba's part numbers with the numbers of the components found in the latest Apple's notebooks.
Here are the short specs of the SSDs:

Three capacities available: 64GB, 128GB, 256GB.
Maximum sequential read speed: 220MB/sec.
Maximum sequential write speed: 180MB/sec.
Thickness: 2.2mm for 64GB and 128GB SSDs, 256GB version is slightly thicker.
Vice president of the Memory Business Unit at Toshiba America Electronic Components, Inc. Scott Nelson underlined the importance of the new technology:
"Delivering a product that enables superior user experience in a smaller footprint is the ultimate goal. The density of MLC NAND enables the creation of smaller form factor high density storage solutions, and Toshiba, as the technology leader for NAND storage solutions, will continue to innovate in this space."
Though the individual users won't be able to buy new SSDs as they became available only for bulk purchasers and device manufacturers, it will be easier for everyone to upgrade or replace solid state drives in their MacBook Airs.
The SSDs create instant-on capabilities when the device is returning from sleep. It is the speedy drive that makes the 13-inch MacBook Air almost as powerful as 13-inch MacBook Pro. These SSDs also became a reason why many people compared the latest Airs with the iPad.

Leave a comment