2015 Became Apple's First Negative Year Since 2008 [Chart]

Apple shares closed 2015 at $105.26, which is more than 4% down in comparison with the start of the year. This is the first negative year for Apple since 2008, Reuters reporters write. They add that In 2008, Apple shares finished down enormous 52%.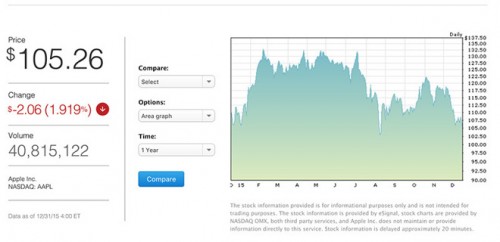 Apple shares stood at $105.26 at the end of Thursday, the last trading day of 2015, down 4.64 percent from the start of the year and 21.76 percent from an all-time intra-day high of $134.54 reached in April. The stock was negative 2.06 percent for the day.
Apple's market value is now equal to $590 billion. Even though this is about 20% down since the April jump, I must admit Apple remains the largest and the most expensive company in the world.
The demand for the iPhone 6s and iPhone 6s Plus is slightly lower that it was initially expected, moreover, the number of devices activated during the holiday quarter decreased about 2% last year. Despite these facts, most analysts and experts have positive expectations and ratings for 2016.
[via AppleInsider]

Leave a comment