5.5-inch iPhone 6 Battery Appears Online

Several new images have been recently shared by Nowhereelse.fr, which show something what appears to be a battery for the upcoming 5.5-inch iPhone 6. What is interesting about the leaked part is that it can boast of the capacity nearly two times larger than that of the battery of the iPhone 5s. For those, who don't know: the battery capacity of the iPhone 5s is 1.560 mAh, while the same specification of the next-gen iPhone 6 with 5.5-inch screen is 2.915 mAh.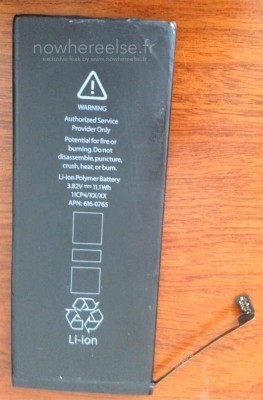 Nowhereelse posted photos of the battery from Huizhou Desay which indicates a capacity of 2,915 mAh. That's much larger than the current battery for the iPhone 5s which has a capacity of only 1,560 mAh.

Of course, the larger battery is needed to power the larger display; however, we are hoping that Apple has heard consumer complaints and has taken steps to boost the battery life of its next generation devices.
If to speak about the battery of the 4.7-inch iPhone 6, it is expected to get the capacity of 1.810 mAh. Anyway, all of the aforementioned specifications haven't yet been confirmed by the guys from Cupertino, so I suggest that you should take them with a few pinches of salt.
[via iClarified]

Leave a comment