50% of Smartphones Will Have OLED Displays in 2020 [Report]

According to the latest report from TrendForce, nearly 50% of all smartphones will have OLED displays by 2020. The main reason for the growth is the adoption of the new display technology by Apple. Since the iPhone is expected to get an OLED screen in 2017 and subsequent years, Apple's market rivals are very likely to adopt the technology as well to compete with new iPhones on equal terms.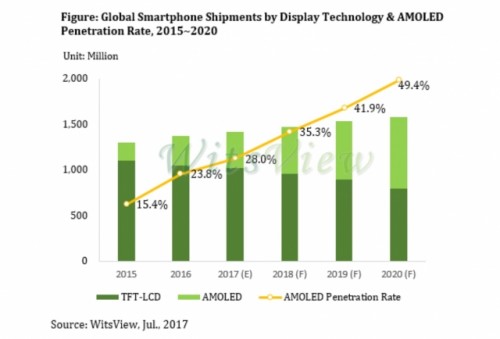 Here's what the experts write:
The reveal of the next iPhone's specifications has accelerated the deployment of AMOLED displays for other smartphone brands. Panel makers, especially those from China, are hastily building up their AMOLED manufacturing capacity as well.
According to the figures shared by the researchers, next year 35.3% of all smartphones will have OLED screens, in 2019 the figure will rise to 41.9%, and in 2019 49.4% of smartphones will be equipped with organic light-emitting diode screens.
[via TrendForce]

Leave a comment