96% of Customers Satisfied with iPhone 4S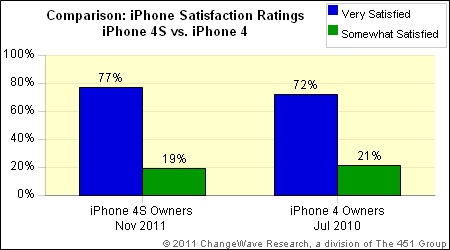 Research firm ChangeWave released on Thursday results of an early November survey of iPhone 4S owners that shows that 77 percent of respondents indicated they are "very satisfied" with their iPhone 4S, another 19 percent said they are "somewhat satisfied," while j 2 percent fell into the "unsatisfied" category. After launch of the iPhone 4, 72 percent of Apple customers were "very satisfied" with their purchase, and 21 percent were "somewhat satisfied."
ChangeWave also asked customers what their favorite specific features of the iPhone 4S are. Siri topped the list of most-liked features on the iPhone 4S, with nearly half of survey respondents citing it. Second place was ease of use with 39 percent, and the new 8-megapixel camera took third with 33 percent. Faster Web browsing was the fourth most popular feature at 24 percent, the high-resolution Retina Display took fifth with 23 percent, and iCloud service was in sixth with 19 percent.
38 percent of users don't like short battery life. Two-in-five owners said they had experienced reduced battery life with their iPhone 4S. The second most disliked aspect of the iPhone 4S is its lack of high-speed 4G data connectivity, 30 percent of respondents said. Coming in third was the screen size at 11 percent, network coverage took fourth with 9 percent, and excessive dropped calls was at 8 percent.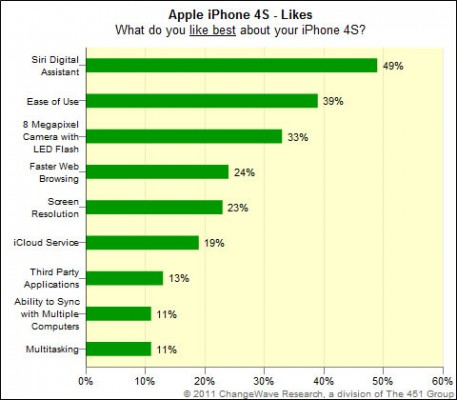 Leave a comment