A New Leak Hints on New iPhone Storage Capacity Range and Prices

A user of the Chinese website Weibo has shared a photo leak showing the storage capacities of the upcoming iPhones and their prices.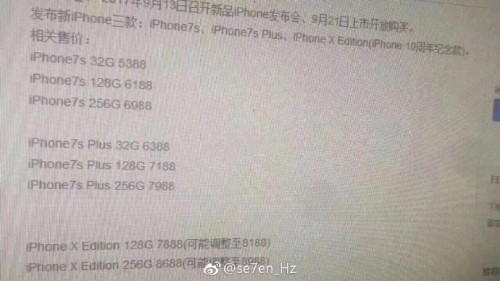 According to the photo, the new models will have the following storage configurations: iPhone 7S series will be available with 32GB, 128GB, and 256GB. The new iPhone, which is called "iPhone X Edition" there, will offer 128GB and 256GB storage options. Another leak suggested Apple will add the 512GB model as well.
The prices are for China and are indicated in Chinese currency. They are the same as the prices for iPhone 7 series. If the information is correct and reliable, then the price for iPhone 7S in the US will start at $649 for the 32GB model and will rise to $969 for iPhone 7S Plus with 256GB.
As far as iPhone 8 is concerned, the price for 128GB model will be almost the same as for the iPhone 7S Plus with 256GB, but there is a note in brackets that $45 more may be added. Therefore, iPhone 8 256GB will cost $1,316 with the potential $45 more.
The photo also indicates the announcement date and it differs from the one Apple has recently reported as well as the release date that is one day ahead of the rumored September 22th.
[via BGR]

Leave a comment