Acer revealed its plans on competing with Apple on tablets market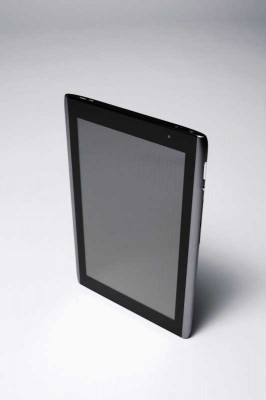 This week Acer revealed that it's going to ship two Android-based tablets in April 2011, and one Windows 7 tablet in February 2011.

The smaller Android tablet will have a 7-inch display with a resolution of 1280x800px and aspect ratio 16:10. It will also contain a forward-facing HD camera, provide wireless 3G and Wi-Fi connectivity and run Adobe Flash Player 10.1. To make it possible Acer will use a dual-core processor. It was also revealed that the 7-inch tablet will support Dolby Mobile Technology to provide a "truly amazing sound experience".
The 10.1-inch Android tablet will be 13.3mm thick and have an aluminum casing. The device will feature an HDMI port, support of 1080p video playback, internal gyroscope and multi-touch input, 3G and Wi-Fi connectivity.
Windows 7 tablet will have an AMD processor, two 1.3-megapixel cameras and 10.1-inch display. The device's weigh will be less than a kilogram and just 15 mm thick. Support for 3G and Wi-Fi technologies is also included.
Earlier the Acer's chairman reassured that when most of the iPad's rival tablets will be introduced, iPad will only have 20% of the total tablet market, and with introducing three new devices it looks like the company has big plans on competing with Apple.
Earlier Acer was known as one of the top PC makers that cells low-power and low-cost netbooks.
Our sponsor: jobs in bradford.

Leave a comment