Adoption Rate of iOS 9 Reaches 79%

According to the App Store data, the adoption rate of iOS 9 has increased to 79% over the last couple of weeks. 16% of users are still on iOS 8 and 5% use even older versions.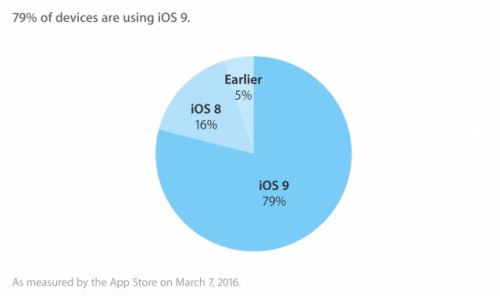 The adoption is supposed to climb even higher soon, as on March 21st, Apple will officially unveil iOS 9.3. The new version of the mobile operating system will have several interesting features, for example, Night Shift, 3D Touch shortcuts for different apps, CarPlay updates, improved Health app and so on.
All these new updates and improvements can persuade the users of older operating systems to upgrade to iOS 9.
Alongside iOS 9.3, Apple will release the widely-rumored iPhone SE, 9.7-inch iPad Pro and the updated Apple Watch.

Leave a comment