Analysts Forecast 17 Million iPhones, 8 Million iPads Sold in Q3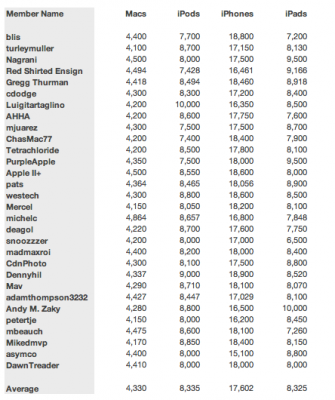 Apple is expected to post its official financial results for the third quarter 2011 on July 19, but now we may hear different prediction. One of them has been made by the non-Wall Street Apple analysts at the Apple Finance Board. They believe that Apple has sold more than 8 million iPads and 17 million iPhones in the third fiscal quarter of 2011. Wall Street's analytics claim "the company earned $5.69 per share on sales of $24.67 billion".  The Finance Board predicts that Apple will post revenue of $26.5 billion.
The June quarter represents the first fiscal quarter in which Apple iPad sales are a factor in the prior-year performance. This factor alone will have an impact on year-over-year revenue growth. iPad unit sales and the resulting revenue were not a factor in the prior-year financial performance comparisons in the December (FQ1) and March (FQ2) quarters.
In Q2 2011 Apple's revenue was $24.67 billion. The company sold 4.69 million iPads, 18.65 million iPhones and 3.76 million Macs.

Leave a comment