The new JailbreakMe for iOS 4.3.3 has officially been released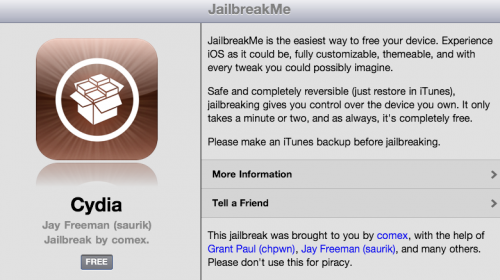 Today Comex has officially released the new web-based jailbreak for iOS 4.3.3. It supports all devices including iPad 2.
The jailbreak uses a PDF exploit similar to old JailbreakMe and does not require your device to be connected to the computer.
To jailbreak, navigate to http://www.jailbreakme.com on your iOS device after updating to iOS 4.3.3 (if you do not need unlock). We will be posting detailed instructions shortly.
Here is the list of devices and iOS versions that are supported:
iPad 1: iOS 4.3 - 4.3.3
iPad 2: iOS 4.3.3
iPhone 3GS: iOS 4.3 - 4.3.3
iPhone 4 GSM: iOS 4.3 - 4.3.3
iPhone 4 CDMA: iOS 4.2.6 - 4.2.8
iPod Touch 3G: iOS 4.3, 4.3.2, 4.3.3
iPod Touch 4G: iOS 4.3 - 4.3.3
Step by step JailbreakMe tutorials:

Leave a comment