Android Dominates Global Smartphone Market in Q3 2016

While iOS global market share and iPhone shipments continue to decline, Android devices continue to gain momentum. According to the latest report from Strategy Analytics, Android share reached nearly 88% in the third calendar quarter of 2016, leaving iOS with 12.1% far behind.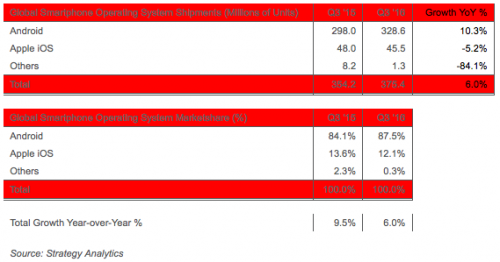 Android devices sold worldwide during the last couple of months accounted for 326.6 million units. Apple managed to sell only 45.5 million iPhone units. Last year, the global shipments of Android devices totaled in 298.0 million units and those of the iPhone made 48.0 million.
Android's gain came at the expense of every major rival platform. Apple iOS lost ground to Android and dipped to 12 percent share worldwide in Q3 2016, due to a lackluster performance in China and Africa.
Apple sells only high-end devices whereas Google lets almost any company that produces smartphones utilize Android for both flagship and entry-level handsets. This is where such a big difference in numbers comes from.
[via Strategy Analytics]

Leave a comment