Angry Birds Space Update Brings 35 New Levels, New Breakable Planets and More

Angry Birds Space for iOS has been updated with a bunch of new levels, planets and other improvements recently. Now it can boast of more than 230 levels, amazing gameplay, birds you've never seen before, superpowers and more.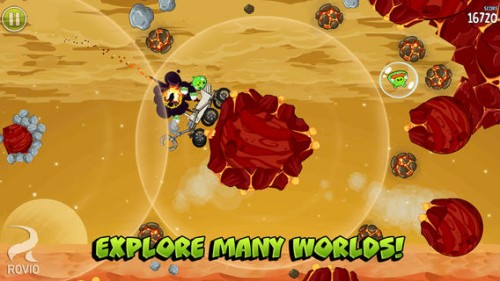 Below you can see the App Store description of the game and the list of the enhancements:
Continue the space adventure in the Cosmic Crystals update with 35 sparkling new levels! Those Space Birds find themselves in a strange part of the galaxy with exploding crystal planets and a crazy mutant Space Pig!
New Levels! 35 brand new levels, including a Space Eagle level and a big boss fight with a fearsome mutant Space Pig!
New Breakable Planets! Welcome to Cosmic Crystals with fragile planets that shatter and explode on impact!
New Riches to Discover! Sparkling mineral-rich planets filled with precious jewels and greedy Space Pigs!
Angry Birds Space for iOS is compatible with iPhone, iPad and iPod touch and requires iOS 4.3 or later.
One can download the game from the App Store for only $0.99.

Leave a comment