Apple Already Sold Out of Initial White iPad mini Pre-Order Stock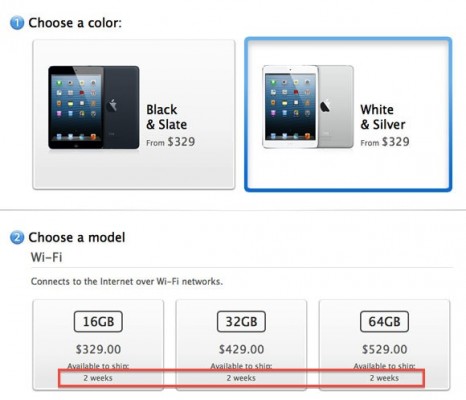 At 3 a.m. Eastern / 12 a.m. Pacific today, Apple began taking pre-orders for the 4-th generation iPad and iPad mini. As it was noted on the forums, a starter supply of white iPad mini in the United States was quickly sold out. Within the first 17 minutes, the delivery time for the white iPad mini stretched up to 2 weeks. Shipping black iPad mini Wi-Fi is available on 2 November.
It is difficult to say exactly what caused that all units have already sold out: whether the high demand or low supply. We suspect stocks may have been low as others have noted that countries outside the U.S. listed "2 week" delivery times from the first moment the white iPad minis went on sale.
Apple also will offer iPad mini in retail stores. To the day of the official launch, to ensure availability, Apple has produced a large number of devices. iPad mini Wi-Fi will be available in retail stores from 2 November. Cellular version is expected to be available in mid November.

Leave a comment