Apple announces education event in New York City next Thursday, Jan. 19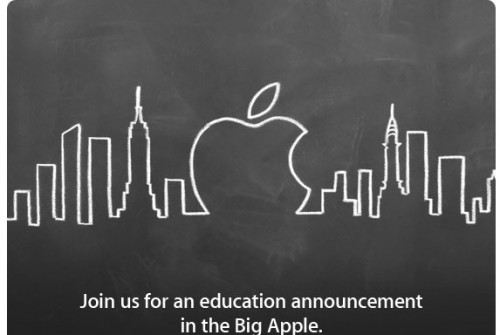 On Wednesday Apple sent out invitations for a special event set for January 19. The event will be held at the Guggenheim Museum in New York City, where will be made an announcement related to education.
The invitation, as shown by The Loop, features a chalkboard-style drawing outlining the skyline of New York. Front and center in the skyline is the Apple logo, while the tagline for the event confirms that the event will involve an education-related announcement.
According to the previous rumors, Apple Senior Vice President Eddy Cue will play a part in the demonstration. The event is highly unlikely to be devoted to a new device like an anticipated third-generation iPad or rumored Apple television.
The event is likely to be focused on enhancements to the iBooks related to education and digital textbook publishing. Rumors have suggested the event will highlight iTunes U, a free service Apple provides that gives access to educational content, and other education-oriented topics.
Attendees at next week's event are expected to be from the world of publishing, and reports have suggested it will be more of an industry-related event than a consumer-oriented product announcement. One report from earlier this month claimed Apple would take the wraps off of new improvements to its iBooks platform at the event, but any announcements have been characterized as not "major."

Leave a comment