Apple Announces Financial Results in Q1 2016

Apple on Tuesday announced the financial results in the first fiscal quarter of 2016. The tech giant posted quarterly revenue of $75.9 billion and net profit of $18.4 billion. In the year-ago quarter, Apple posted quarterly revenue of $74.6 billion and net profit of $18 billion, so looks like we have a new record here. The reason for such good results is quite obvious: first fiscal quarter corresponds to the fourth calendar quarter better known as the winter holiday quarter. Traditionally, Apple sells more products during these couple of months.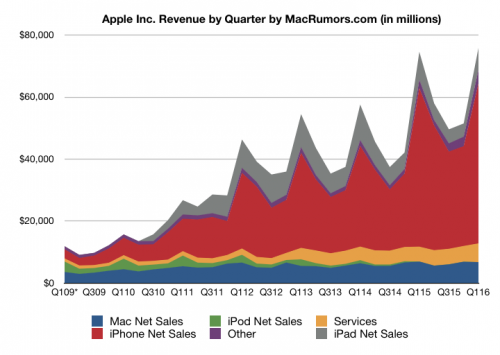 During the quarter, Apple sold 74.8 million iPhone units, up from 74.5 million units sold in Q1 2015. Mac sales were down from 5.5 million units in the first quarter of 2015 to 5.3 million units in Q1 2016. iPad sales were also down from 21.4 million units to 16.1 million units.
"Our team delivered Apple's biggest quarter ever, thanks to the world's most innovative products and all-time record sales of iPhone, Apple Watch and Apple TV," said Tim Cook, Apple's CEO.
During the conference call, Apple forecasted a drop in sales and revenue in the next quarter. According to the data shared by the company, the revenue will account for about $50 - $53 billion. That's lower than the revenue generated during the year-ago quarter ($58 billion).

Leave a comment