Apple Became Top Smartphone Vendor in the USA and China in 2015

According to the latest report from a research firm Kantar Worldpanel ComTech, in 2015, Apple became the top smartphone vendor in the United States of America and China. New devices, namely, the 4.7-inch iPhone 6s and the 5.5-inch iPhone 6s Plus, allowed to beat the rivals and become the leader of such important markets. Strong demand for both handsets generated record-breaking revenue as well.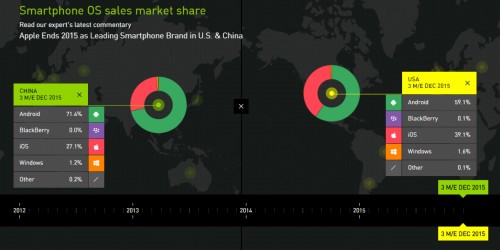 Here's what Carolina Milanesi, chief of research at Kantar Worldpanel ComTech writes about Apple's accomplishments in 2015:
As a vendor, Apple was able to return to the top of the leader boards in the U.S. and China, while iOS has struggled to return to the market share it saw in 2014 across a number of markets, especially in the U.S.
Despite strong demand for Apple devices in major markets, the share of iOS still falls behind Android. The reason for such a situation is quite obvious - the number of vendors manufacturing smartphones powered by Android is pretty impressive. The lineup of Android devices accounts for hundreds of devices, while the iPhone lineup includes less than a dozen.
Apple is expected to announce a smaller iPhone 5SE in March. This handset may slightly improve the situation.

Leave a comment