Apple Announces Financial Results in Q3 2015

Apple on Tuesday announced its financial results in the third fiscal or second calendar quarter of 2015. According to the numbers, which were shared by the guys from Cupertino at a conference call yesterday, the company managed to earn $49.6 billion in revenue and $10.7 billion in net profit during the last quarter. If to compare these financial results with the results of the year-ago quarter, we'll see that they are noticeably higher. The revenue of Q3 2014 was equal to $37.4 billion and the net profit accounted for $7.7 billion.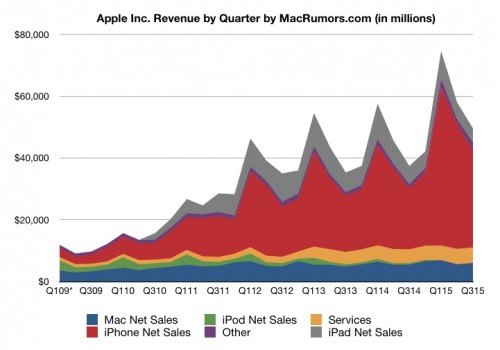 Apart from announcing the amount of money earned during the last months, Apple told us about the number of iPhones, Macs and iPads sold worldwide. The guys from Cupertino sold 47.5 million iPhones, 4.8 million Macs and 10.9 million iPads. Unfortunately, the tablet sales continue to decline.
Apple sold 47.5 million iPhones during the quarter, up from 35.2 million a year earlier, while Mac sales registered 4.8 million units, up from 4.4 million units in the year-ago quarter. iPad sales continued to decline, however, falling to 10.9 million from 13.3 million.
Can't wait to see the financial results of the next quarter. What about you? Do you expect Apple to report record-breaking sales in the fourth fiscal quarter of this year? Leave your comments below.
[via MacRumors]

Leave a comment