Apple Takes 75.5% of Worldwide Smartwatch Market - Strategy Analytics

According to the latest report from a research firm called Strategy Analytics, global smartwatch market has grown 457% over the last year. In the second quarter of 2014, smartwatch vendors managed to sell about 1 million of wearable devices. In the second quarter of 2015, however, the worldwide shipments accounted for impressive 5 million units. Previously, Samsung was the leader of the market with the share of 73.6% and 0.7 million smartwatch units shipped. Now the first place is occupied by Apple with the share of 75.5% and 4 million Apple Watches sold to customers worldwide.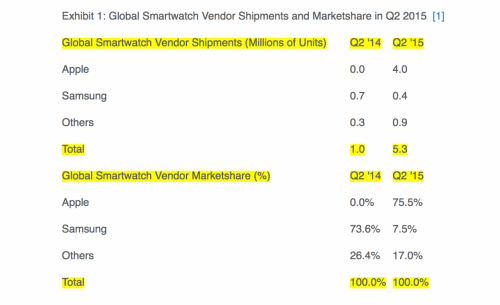 Here's how Strategy Analytics' Director Cliff Raskind commented on the smartwatch sales in the second quarter of 2015:
Global smartwatch shipments grew an impressive 457 percent annually from 1.0 million units in Q2 2014 to hit a record 5.3 million in Q2 2015. It was the smartwatch industry's fastest ever growth rate.
Apple's smartwatch is one of the most popular devices ever manufactured by the guys from Cupertino. The demand for the gadget was incredibly high at launch and remains the same at the moment. Apple Watch sales may result in a substantial increase in company's profits during this year's holiday quarter.

Leave a comment